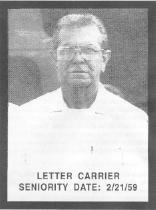 Rudy Magana
I attended the Memorial Service on March 3, 2003 for Rudy Magana.
Rudy was the senior carrier in Branch 782 and carried right up to his last
day. At the age of 72--and with over 44 years of postal service--he could
have retired. But he didn't.
I would see him at the bowling alley and we would laugh at the "good old
days" at Station A. And we would discuss the B.S. of today.
Whenever I would bring up the subject of retirement, Rudy would just grin
and say, "What for? They pay me good and management leaves me alone because
they know that I'm still one of the best Carriers in the office."
It was said that Rudy was the grumpiest postal worker. Perhaps he was.
He began his career in 1959 when the patrons still appreciated postal
"Service". Maybe Rudy was grumpy because he didn't appreciate the
deterioration or the lack of Service. It wasn't because he didn't like his
job.
I retired in 1999 because of these same reasons.
And, the Service is getting worse.
My condolences to his family.

Paul Alexander, Retiree
Past Branch 782 President

What do you say about Rudy Magana? Who could forget him?

He must have had the market cornered for being the most grouchiest person. I
believe it was all in God's plan. And for 12 years, Rudy never changed. I
guess you knew where you stood with him.

Rudy we will never forget you.

MARY BREEDING
Rt. #504

It Seems Like Yesterday

I remember my first day at E.B. station. A new city, a new area, and a new
job. With all of this newness, I was as scared as scared could be. Guess
who was the first person to come to me. It was Rudy. He said to me, "What is
your name?" in the same tone as my daddy. (not father, but daddy) Well that
didn't put nothing at ease. I think he saw all of that fear in my eyes. I
said in a humble tone, "Aaaaaaudrrey."

There was this great big smile on his face. I knew at that moment I had a
friend for life.

It has been almost 20 years since that first day I met Rudy. I was this
sweet innocent naive grandmother (if you can imagine). And Rudy was the
person who always spoke the truth. There've been times the truth was not
pleasant, but if it needed to be spoken, Rudy would wasn't shy about saying
it.

There were been times Rudy was known to be the grouch--but he was respected
as the grouch.

I remember Monday Feb. 24, 2003. Rudy came in the station from his route
(517) not looking so well. So I went up to him asking, "How are you
feeling?" He replied, " I feel like sh**."

We all know Rudy did express himself truthfully and I will miss him for that.

AUDREY B. NEAL
Regular (E.B)


Once He Clocked On,
Rudy Was All Business
I'm still in shock about Rudy's passing. I still can't believe it. I guess
we would have been just as surprised if he had suddenly retired because he
just never acted like it was ever really in his plans to retire.

So in that respect, I guess it's not so unbelievable that Rudy worked up
until the day before his death. His last day at work seemed like any other as
far as we could tell. It was Monday February 24. He was just typical Rudy,
quietly casing up the mail doing his job the way he had for over 40 years.
With one exception, Rudy was very ill. Much worse than he ever let on to any
of us. Sure, we all knew he had that lung condition which we knew he was
getting treated for but he said that although he had lost 50% of his lung
capacity, he was determined to keep it from getting any worse. Rudy was never
the one to complain. But if you asked how he was doing, you could tell you by
most of his replies that he tired more easily and didn't have the stamina he
once had.

But to all of us he was just a steadfast, dependable, predictable Rudy. He
never joined any so called cliques and if you wanted to talk shop with him,
you should get to work an hour early in the break room.That's where you could
find him most relaxed & talkative. But once he clocked in. It was all about
business. Case up the mail, deliver all the mail on a schedule you could set
a watch to. Come back tie up loose ends, and clock out.

Rudy didn't do a lot of complaining and he didn't care much for those who
did (must be that Marine mentality!!!) He was known for being grouchy. But
that was just Rudy. He could also talk nicely with you.

After being diagnosed with his illness. Rudy bid on Rt. #517 and I became
his T-6. At first his business customers kept telling me that Rudy seemed
unfriendly and impatient in his deliveries. I told them,
"Don't worry, he's harmless. He'll warm up to you." Within a few weeks he
had won them over. They were all shocked & saddened by his sudden passing. T
hey now miss him coming in everyday with something funny or interesting to
talk about or just giving them a bad time about something.

On his last day of work, his patrons said he did not look well and he sounded
sad when he told many of them he felt he was going to have to give it up,
because he couldn't breathe very well. He managed to make it through the day
and told the supervisor that he was going on sick leave & retiring.

The next day he passed away peacefully at home.

You have to respect someone who worked as long as Rudy did. What's even more
awesome is to consider that he actually enjoyed being out there. Being
productive at a time when most people are counting the days till they can get
out. So many people have bid out or retired since I came to this office in
1985. Rudy was always there doing his job the way he has for so long in his
grumpy Rudy way, that seemed unchanging.

Hey if he can do this job for so long & enjoy it. Then we know we will be
okay also. You could always count on Rudy to be there. Now something is
missing. We will miss you Rudy

BRIAN SHELLCROSS
T-6 (E.B.)

We all know him as the Grumpy Ol' Man. But that's not the real man I came to
befriend. On the outside he gave the image of a grumpy weathered marine, but
to some of us we saw a different side of him.

Almost every morning we came 30-45 minutes early to work for a cup of coffee
and watch the morning news. We talked about politics in our nation and the
post office, from computers to mechanics. But mainly we talked about our
families, the joys and concerns of raising them. He was always giving a
hand, his expertise, or opinion on things he knew about. I will always
remember him as a gentleman. Rest in peace, Rudy.

JUAN RIVERA
Rt. #519

Time and space do not permit my publishing ALL the comments about Rudy. More may be found in the March issue of the E.A Baker Union Update. Suffice it to say that Rudy was "one of a kind". I met Rudy well over 25 years ago when he was delivering my soon-to-be wife's mail at her place of employment. I regret that I didn't have the opportunity to get to spend more "social" time with Rudy. However, being the truck driver that serviced the Station A Post Office I had many an opportunity to trade jabs with him. Rudy was a great guy, a great carrier, and will be missed by many.
Rick Plummer, Webmaster 782nalc.com